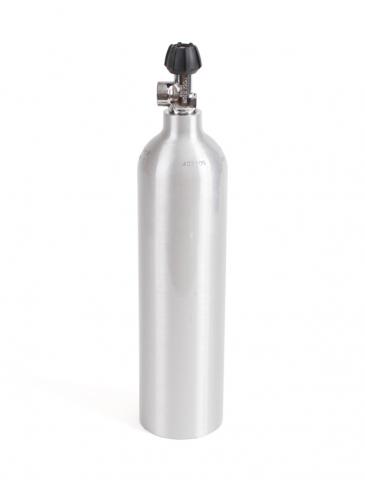 EU & Asia Pacific (Silver) Cylinder specifications:
Cylinder capacity: 3.0 L
Diameter: 117 mm / 4.61 Inch
Length: 440 mm / 17.32 Inch
Weight: 3,60 kg /  7.9 lb (US)
Working Pressure Diluent: 200 Bar / 2,900 PSI
Working Pressure Oxygen: 135 Bar / 2,000 PSI
Test Pressure: 312 Bar / 4,525 PSI
Thread Specification: 97/23/EC
3.0 L Aluminum Cylinders
The light weight 3.0 L aluminum cylinders, make your Poseidon rebreather even lighter.
Your Poseidon rebreather can be specified with or without 3 liter cylinders (not an available option within EU). Whe you order Poseidon cylinders you will receive light-weight aluminum cylinders that will make your rebreather diving even easier.
With aluminum cylinders, your Poseidon rebreather will be even easier to travel with and handle. If you are unable to refill your diluent or oxygen cylinder you can still have an extra dive by bringing an extra cylinder. You can now order one additional diluent or oxygen cylinder. Cylinders come equipped with tank valves.