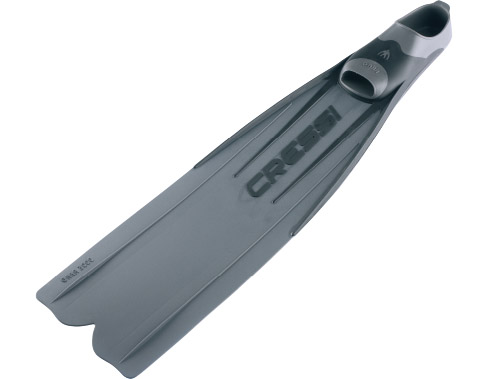 The structure of the Gara 3000 LD is identical to the greatly-appreciated Gara 3000, but the material of the blade, which is softer, is what makes them stand out.
The LD in the 3000 LD stands for Long Distance, indicating the main use of the product, and these fins have emerged from the need to offer enthusiasts increasingly powerful fins, which are however less demanding than the Gara 3000 fins.
Less muscle effort is required for kicking so divers can use them for longer, making them perfect to use many hours in a row.
The softer blade is also very suitable for use in cold water, which is notorious for its tendency to stiffen materials and make them less flexible.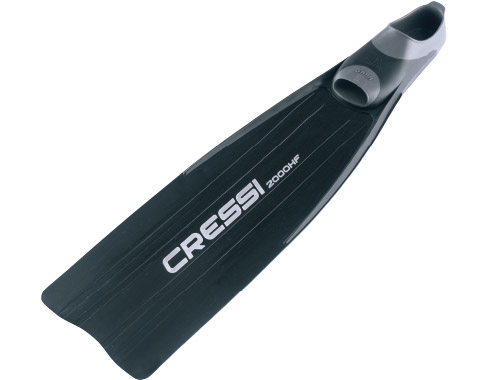 The first fin in the world made by combining three different materials, a process that Cressi perfected and patented with this fin, which guarantees unsurpassable performance.
The blade is made from a special, incredibly reactive polypropylene, which is at the same time extremely light, and progressively charges up during the stride to take off like a spring at the exact moment the stride is inverted.
A soft elastomer anatomically wraps around the foot, blocking it with a comfortable bite, which guarantees perfect transmission of the leg-fin thrust.
A suitably solid copolymer hardens some critical zones of the foot, and is extended along the sides in two lateral stringers, which go halfway along the blade.
The function of these stringers, assisted by special raised bands on the bottom of the blade, is to regulate and harmonise the bending, at the same time protecting it from shocks and abrasions.
The fins are extraordinarily light compared to equivalent models of rubber footed fins and reduces the inertial masses to the minimum, to the full advantage of the effort-efficiency ratio.
This fin is designed for deep skin-diving, although some Scuba professionals and instructors appreciate it a great deal.