iDive Easy Color Series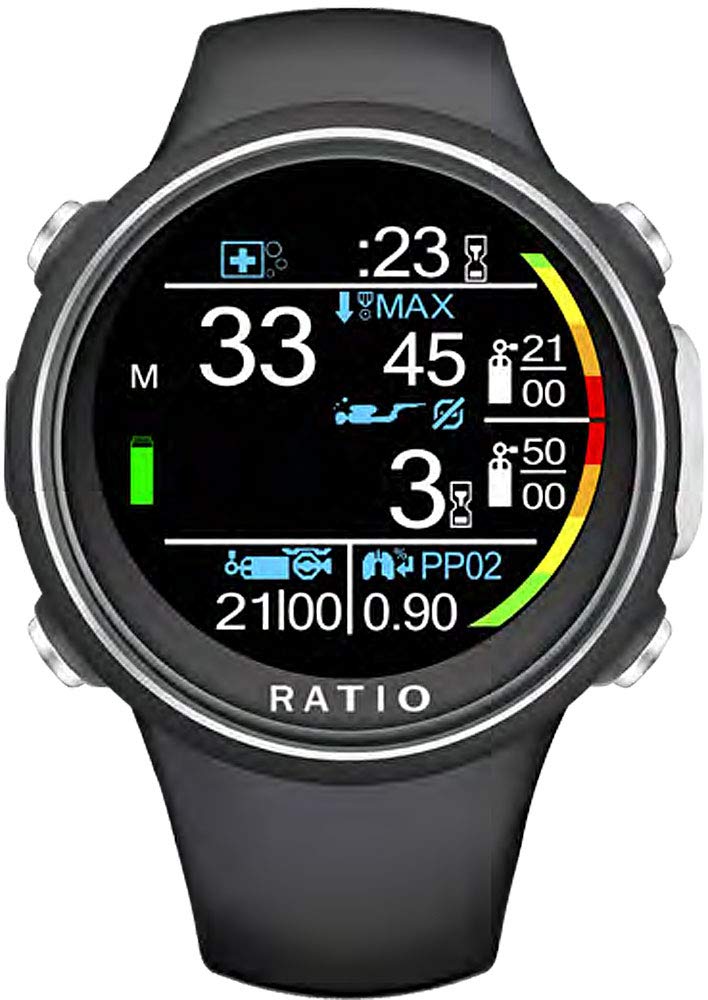 Features:
6 Eye-Catching Colors
Fully Armored Superior Toughness
Icon-based User Interface User friendly like never before – Up, Down, Enter, Exit and you're all set
Multi-tank Transmitter – Monitor up to 10 transmitters at the same time *(Up to 2 for iDive Easy, up to 3 for iDive Deep, up to 10 for iDive Tech+)
Bühlmann and VPM Algorithm – Double Core Decompression Algorithm *for iDive Deep and iDive Tech+
Color Coded Transmitter – Green, Yellow and Red. The New Color Coded Wireless Transmitter flashes up in green, yellow or red according to your tank's pressure during the whole dive. Safety first.
Air and Nitrox, 2 Mixtures (O2: 21% – 99%)
Gauge and Freediving Modes
Optional Wireless Transmitter Air Integration (see SKU: RATWTAI)
When Coupled w/Transmitter Monitor Up to 2 Transmitters
Side Mount Multi Transmitter Mode
Bulhmann ZHL-16B Algorithm
Algorithm Adjustment: 6 User Settable Protection Levels
Repetitive Dives Management
Gas Switch and Gas Break During Dive
PO2: 1.2 – 1.6
CNS Calculation
Altitude Adjustment Automatic
Water Type Salt/Fresh
Deep Stop
Safety Stop Adjustment, Time &
Depth
Last Deco Stop Depth Manual
Adjustment
Alerts Acoustic + Visual
Dive Planner No Deco Limit + Full
Deco Planner
Compass: 3D Compass, 1° Resolution, +/- 1° Accuracy
Max Depth 500′ (150 meters)
Logbook 160-Hour Scuba (sampling 10 sec)
Backlight LED Super-Bright
Backlight Activation Mode Timer, Manual On & Off, Always-On in Water
Battery USB Rechargeable Lithium-Ion
Burn Time (Battery): 20-Hours Dive Time, 1 to 2-Months (watch-mode)
Other Functions (Apps):
Stopwatch, Pitch & Roll, Magnetometer
Lunar Phases, Alarm Clock, Dual Time
Outdoor; Altimeter, Barometer, Temperature, Weather Forecast
Pedometer (Fitness app)
Imperial or Metric Increments of Measurements
Time: 12 or 24-Hour Format
Dual Time & Time Zone Functions
iDive Deep Color Series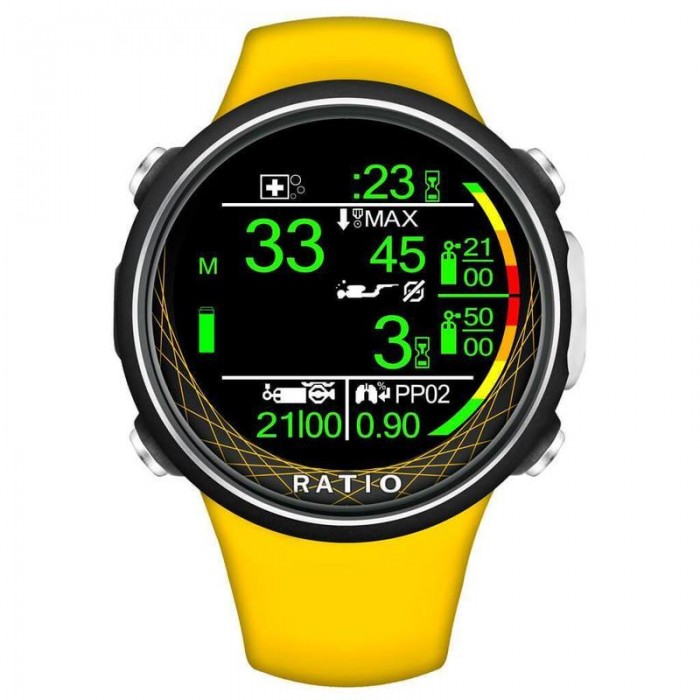 Indicated for Advanced Diver.
Everything for a perfect Air and Nitrox, Trimix Normoxic, Gauge, up to 3 gas mixes.
Features:
Wireless air integration Dive Modes: Air, Nitrox, Trimix Normoxic.
Gauge AVG
Freediving
Settable Mix: 3 Algorithm: Buhlmann ZHL-16B and VPM-B Algorithms
Adjustment: User settable Gradient Factor and Critical Bubble Radius
Display: 80 x 80 pixel Case: composite case Top Glass: mineral glass
Max Depth: 220 meters
Long life USB Rechargeable Battery Integrated
Compass: 3D, 1° of resolution and +/- 1° of accuracy. Tilt compensated up to 85° supported by a complete inertial platform.
Integrated Magnetometer, Altimeter, termometer, barometer and fitness pedometer
Oxygen analyser integration: Simply plug the accessory to your computer.
Silicone watch strap USB Cable interface included.
iDive Tech+ Color Series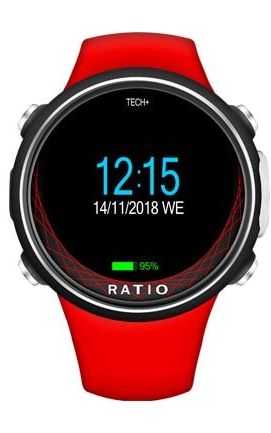 The Ratio iDive Color Tech+ Edition is packed with more features than any comparable computer. The Ratio iDive Color Tech+ Edition has all the features any technical diver will ever need with up to 10 gas mixes enabled. iDive Color Tech+ Watch dive computer: For skilled divers only. Are you? Air, Nitrox and Trimix Closed Circuit Rebreather (CCR), 10 mix, Air integrated, compass, outdoor functions and more. Computer also offers a gauge and freediving mode.
The iDive Color Tech+ Dive Watch Computer can be used with up to 10 gas mixtures (O2: 05% – 99% / He: 0% – 95%) Fueled by the Bulhmann and VPM Algorithms with the deco model (Algorithm) Buhlmann ZHL-16 B + VPM-B. User settable gradient factors for Buhlmann user settable bubble radius for VPM. Repetitive dives management, gas switch and Gas break during the dive, PO2 0.4 – 1.6, CNS calculation and altitude adjustment is automatic.
The iDive Color Tech+ Dive Watch Computer can be set for fresh or salt water and measurements for depth, temperature and gas pressure (w/optional transmitter) in imperial or metric increments. Time can be set in a 12 or 24-hour format with dual time function, daily alarm functions a two-time zone function. The computer has a deep stop function, adjustable safety stop function for time and depth, last decompression stops depth manual adjustment and both audible and visual alarm/alert functions. There is a dive planner no decompression limit + full decompression planner. Navigation is easy with the 3D-compass that has a 1° resolution, +/- 1° accuracy. Other functions (Apps) stopwatch, pitch & roll, magnetometer and lunar phases. Maximum depth is 721′ (220 meters), the computer has a logbook of 160-hour on Scuba (sampling 10 sec), backlight LED super-bright activation mode timer, manual on & off, that's always-on in the water. Powered by a rechargeable lithium-ion battery that provides 20-hours of dive time and 1 to 2-months (watch-mode. Charging is performed via the included USB cable.